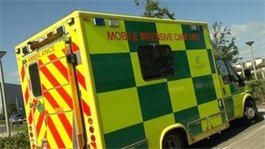 A report published today on RTE News by the Health Information and Quality Authority has recommended that it is aimed to guarantee an emergency response time of 8 minutes.
The Director of Healthcare Quality and Safety at HIQA, John Billing, recommended that properly trained personnel attend critically ill patients within 8 minutes. This would cover 75% of all emergeny calls
It is clear that those ambitious targets will be difficult to meet for emergencies not only in rural area.
The most recent HSE performance report for October 2010 set an emergency ambulance calls response target of 63% within 14 minutes, but the actual target achieved in October 2010 was lower than that at 57%.
Those figures are very frightening if you take into consideration that you would suffer irreversible brain damage 6-8 minutes after a cardiac arrest.
That's the reason why we believe everybody should be trained in CPR and how to use an AED.
Those skills (or the lack of same) can make the difference between life and death.
All our day courses cover CPR as well as an introduction into the use of an AED. For more info and to find out about our next public courses please click here.
If you would like to like to read about our range of First Aid Courses in Dublin please click here.
http://www.firstaidforeveryone.ie/wp-content/uploads/2016/11/first_aid_for_everyone-1.gif
0
0
adminHS
http://www.firstaidforeveryone.ie/wp-content/uploads/2016/11/first_aid_for_everyone-1.gif
adminHS
2011-01-20 21:35:55
2015-07-16 12:49:33
Emergency Response Times