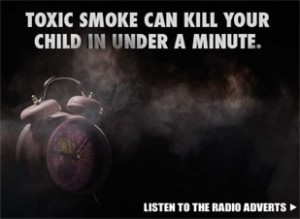 There has been a huge increase in domestic fires this winter. They resulted in over 20 deaths so far.
This represents almost half of all fire related fatalities in 2010.
Even worse are the findings of the fire investigators – smoke alarms were either not present or not working in the majority of these cases!
"Forty to 50 people have died in accidental house fires every year over the last 20 years and this trend has continued this winter. Sadly many of these fatalities could have been prevented," commented CFOA chairperson and chief fire officer in Galway, Michael Raftery.
We worked closely with Danny Healy from Aqua Fire Prevention Ltd. over the last 8 weeks while researching facts for our last First Aid tips. He made us aware of the tragic events. "We are teaching fire safety for 15 years. I have never seen so many fire accidents in such short space of time."
Please check your smoke alarm and make sure it's working. If you don't have smoke alarms fitted you can buy them in all hard ware stores or online.

Do you have a fire escape plan? We found a great site for some essential tips –
http://www.firesafetyweek.ie/index.html
While fire safety regulations state requirements for business and public places, there are no rules on what a home owner should have in line of fire safety equipment.

Make sure you have at least one working fire extinguisher in your house. Every kitchen should be equipped with a fire blanket.
If you are interested in more detailed advice or you need fire safety equipment or training please contact Aqua Fire at (01)4527016 or by mail
info@aquafire.ie
http://www.firstaidforeveryone.ie/wp-content/uploads/2016/11/first_aid_for_everyone-1.gif
0
0
adminHS
http://www.firstaidforeveryone.ie/wp-content/uploads/2016/11/first_aid_for_everyone-1.gif
adminHS
2011-02-27 21:18:11
2015-07-16 12:42:25
Fire Safety