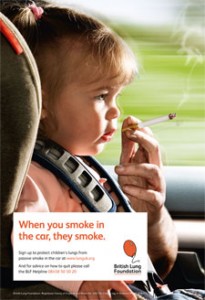 The minister for Health Dr James Reilly brought forward a very courageous and admirable proposal. He wants to ban smoking in cars when children are present and hopes to bring forward legislation early next year.
He described it as "irresponsible" for parents to smoke in the presence of children. However he stressed that he doesn't want to introduce a blanket ban on smoking in the car.
As ex-smokers we know what it's like if you feel the urge to have a cigarette. We gave up smoking before we had our children. Even in our wildest dreams we could not image exposing our children to a small confined space filled with cigarette smoke.
Unfortunately there are still plenty of people out there who don't see this as a problem.
The British Lung Foundation research has found that more than half (51%) of 8 to 15 year old children have been exposed to cigarette smoke when confined in a car.
This is worrying given that smoking just one cigarette in a car, even with the window open, creates a greater concentration of second-hand smoke than a whole evening's smoking in a pub.
This type of ban is already in force in several parts of Australia, Canada and the US. It is under consideration in many other countries like Cyprus, the Netherlands and South Africa. As you can see from the poster a similar initiative is going on in the UK since the end of 2010.
Forest Eireann, which represents the tobacco industry, has described the proposal as over the top and unnecessary. It said that smokers were responsible people and would not light up in cars where children are present.
As this is true for the vast majority of smokers you can still see the need for this proposal every day in traffic.
This is not a proposal to punish smokers. It should be seen as way to protect our children.
As Irish motorists spend more time than any other European counterpart in their car it is important to raise awareness. Research has proven that passive smoking is the third most preventable cause of death in Ireland, after direct smoking and drinking alcohol.
Sources:
http://www.irishhealth.com/article.html?id=15119&ss=Smoking%20cars
http://www.irishtimes.com/newspaper/ireland/2011/0728/1224301502295.html
http://www.rte.ie/news/2011/0727/smoking.html
http://www.firstaidforeveryone.ie/wp-content/uploads/2016/11/first_aid_for_everyone-1.gif
0
0
adminHS
http://www.firstaidforeveryone.ie/wp-content/uploads/2016/11/first_aid_for_everyone-1.gif
adminHS
2011-07-28 23:34:40
2015-11-05 21:24:41
Smoking ban in cars