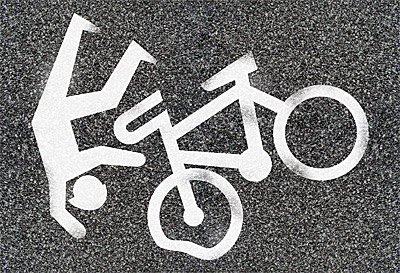 Our morning started like every other day – chaotic. However once we got the children sorted we left the house and my wife walked our 4 children to school.
This is routine for us and a brilliant way to have a chat with the kids. They know the route inside out and know where we cross the road. Even our 3 year old son knows to stop at the traffic lights.
The same happened this morning. The kids waited patiently for the green man to appear. Once he showed up my eldest son stepped on the road when a manic cyclist nearly knocked him down.
My wife was absolutely horrified as this long haired late teen-early twenty year old idiot missed our son literally by an inch. She saw him coming at high speed without making even the slightest attempt to slow down. As you can imagine she tried to have a word with him. As a reply she was shown the middle finger.
Our son was shocked and thought it was his fault. This brainless maniac not only put my child's health at risk but also his own. He didn't wear a helmet (surprise surprise). If he would have even only slightly touched a person or car he would have lost his balance and would have been sent flying on the road.
Some cyclists just don't understand that they don't have any protection – besides a helmet – if they come off their bike. If you don't wear at least a helmet your chances of suffering serious head injuries are very high.
As a cyclist, you can reduce your risk of death or injury by following some simple advice provided by the Road Safety Authority:
Never cycle in the dark without adequate lighting – white for front, red for rear
Always wear luminous clothing such as hi-vis vests, fluorscent armbands and reflective belts so that other road users can see you
Wear a helmet
Follow the rules of the road, never run traffic lights or weave unpredictably in and out of traffic
Maintain your bike properly – in particular, your brakes should work properly and your tyres should be inflated to the right pressure and be in good condition
Respect other road users – don't get into shouting matches with motorists; stop at pedestrian crossings; don't cycle on the footpath
Watch your speed, especially when cycling on busy streets and going downhill
Steer well clear of left-turning trucks: let them turn before you move ahead
While I had looked for statistics on cycling accidents I came across this site. It gives the danger of cycling in Ireland a very chilling face.
So please be careful when on your bike and never ever cycle without a helmet! Speed kills – that applies to cyclists too.
http://www.firstaidforeveryone.ie/wp-content/uploads/2016/11/first_aid_for_everyone-1.gif
0
0
adminHS
http://www.firstaidforeveryone.ie/wp-content/uploads/2016/11/first_aid_for_everyone-1.gif
adminHS
2011-09-20 23:29:32
2015-07-14 12:20:42
Dangerous cyclists