We received a phone call from a participant of one of our first aid courses in Dublin earlier this year which made our day. Ray Steers rang us to tell us a  story that happened on Thursday 1st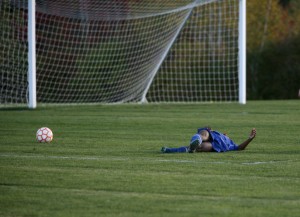 December on Portmarnock Sports and Leisure club.
He kindly agreed to put his story in an email to describe what happened:
"Hi Siobhan
Great news from two of your well trained students. Last thurs night a young man of 20 collapsed with heart failure on the football pitch in Portmarnock Leisure Centre.
A security guard alerted me as he knew I was a first aider, he said a guy was having a seizure of some sort. I sprinted down to the pitch and discovered that in fact he was dead, no pulse not breathing, he had been like this for 3 minutes.
I immediately started CPR. My friend john heard that there was a problem and grabbed the defibrillator from the bar and followed me. While I was giving CPR john opened the AED and applied the pads. Shock advised!
We kept everyone away, including his dad who was trying to hold him, the shock was given and he responded with gasping breaths but was not conscious, we continued to assist while AED was analyising constantly. We put him in recovery position and Barry kept the airway clear, as he had vomited during my CPR.
The CPR had kept blood and oxygen to his brain and the AED restarted his heart. He is now alive and well.
His dad told me it was the best christmas present he could have wished for. The man we saved is the same age as my own son who was present at the time. I was so happy for his dad.
By the way co-incidentally today is sudden adult death syndrome awareness day. Anyone who reads this story, with a happy ending should get out there NOW and do a refresher course!"
This is an amazing story. It made us really proud that we trained Ray twice in the last 2 years. This training and our strong emphasis on CPR and AED even on a 1 day Basic First Aid training course paid off and helped to save a life.
We are very proud of Ray and hope that this story highlights the need why everybody in this country should be trained in First Aid.
If you are interested in organising a CPR & AED course please call us or check out further information on our first aid courses in Dublin here.
http://www.firstaidforeveryone.ie/wp-content/uploads/2016/11/first_aid_for_everyone-1.gif
0
0
adminHS
http://www.firstaidforeveryone.ie/wp-content/uploads/2016/11/first_aid_for_everyone-1.gif
adminHS
2011-12-04 21:42:59
2015-07-14 10:45:23
A well trained First Aider saved a life in Portmarnock