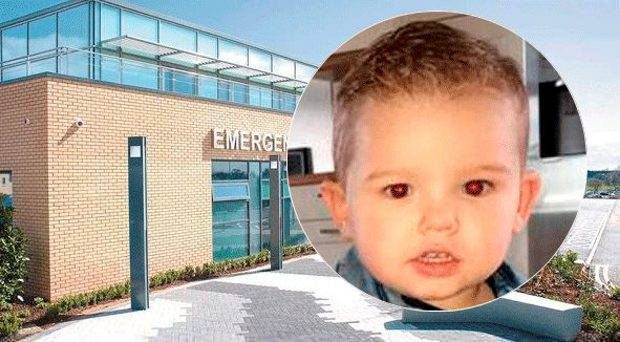 Safety watchdogs have warned of the dangers of Ikea chests of drawers and wardrobes. This comes after two children were killed when they fell on to them in 2014. A similar tragic accident happened in Northern Ireland on 6th January 2016.
Archie Tafts, from the village of Cloughmills, Co Antrim, suffered fatal injuries in the incident at his home on Tuesday. It is understood the piece of furniture fell on top of him
Archie Tafts was described as a "lovely smiley wee fella" as hundreds of tributes were paid to the toddler from Co Antrim.
It is understood the two-year-old was being cared for at his home outside Cloughmills by a close family friend when the accident occurred.
An ambulance was called at 12.30pm on Tuesday after the chest of drawers fell on the toddler at the family home.
Little Archie was taken to Antrim Area Hospital but died later.
Please have a look at our website to find out more tips and advice how to child proof your home.
Childproofing around the house
The most common accidents in Ireland are falls 45%, being struck or hit by an object 35%, a strain 6% or a cut 4%.
Most accidents occur in or around the home, or in a sports area.
Many of the accidents that happen in and around the home can be avoided. By identifying and understanding potential accident risks in the home, you can take some basic safety steps that will keep your children safe and give you peace of mind.
Who is at risk?
Children aged between 0 and 4 years of age are most likely to have an accident in the home. Boys are more at risk than girls.
Use caution with furniture and fixtures
According to the U.S. Consumer Product Safety Commission (CPSC), more than 16,000 children under the age of 5 went to the emergency room in 2006 with injuries caused when television sets, bookcases, and other furniture and appliances tipped over on them. Between 2000 and 2006, more than 130 young children died from furniture tip-overs.
Large or heavy bookcases, dressers, and appliances are real hazards: Bolt whatever you can to the wall. Push items like televisions back from the edge of the furniture they're on or move them out of reach, and then secure them, too. Always put heavier items on bottom shelves and in bottom drawers to make furniture less top-heavy.
Babies start pulling up on furniture shortly after they start crawling. And when they learn how to climb, watch out! Some children scale counters, bookcases, and anything else they can grab on to. Place floor lamps behind other furniture so that their base is out of your child's reach.
Keep dresser drawers closed when you're not using them – they make perfect ladders. You need to be particularly careful to fully close file cabinet drawers, because pulling out one drawer could cause the cabinet to fall over.
Furniture corners are another common hazard, especially those found on coffee tables. Cover all sharp corners and hearth edges with bumpers to soften the impact if your child falls.
Source:
http://www.independent.ie/irish-news/boy-2-dies-after-being-crushed-by-chest-of-drawers-34340322.html
http://www.belfasttelegraph.co.uk/news/northern-ireland/funeral-for-little-archie-tafts-crushed-by-chest-of-drawers-34345532.html
http://www.theguardian.com/business/2015/jul/23/ikea-safety-alert-after-two-children-killed-by-falling-chest-of-drawers
http://www.firstaidforeveryone.ie/safety-in-the-home/
http://www.babycenter.com/0_childproofing-around-the-house_460.bc?page=2#articlesection5
http://www.firstaidforeveryone.ie/wp-content/uploads/2016/01/LittleARchie.jpg
342
620
adminHS
http://www.firstaidforeveryone.ie/wp-content/uploads/2016/11/first_aid_for_everyone-1.gif
adminHS
2016-01-11 19:40:50
2017-01-02 13:05:19
Little Archie died after being crushed by a chest of drawers