1 Day Basic First Aid Courses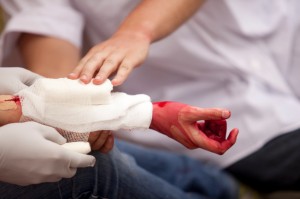 The 1 day Basic First Aid course is suitable for parents, grandparents, babysitters and creche workers and anyone else who is interested to learning or refreshing life saving skills.
It covers all major paediatric as well as adult emergencies and illnesses including CPR and how to deal with choking.
The content will be delivered in an unique style based on class participation, role play, lots of interaction between the tutor and students and a plenty of humour.
At the end each participant will receive a certificate of attendance valid for 2 years.
If you are interested in a group booking please contact us to discuss details including our very competitive fees
Dates:

11th January 2014

25th January 2014

8th February 2014

22nd February 2014

Time: 9:30 – 17:00

Location: Bewleys Hotel, Newlands Cross, Naas Road, Dublin 22

Course fees: € 100 per person

The fees include:

a comprehensive First Aid handbook
plenty of useful hand outs and
coffee & tea, fresh fruit and selection of biscuits
free car parking

Participants can buy their lunch at Bewleys restaurant.

We sell a selection of vital First Aid products on the day. They include different size First Aid kits, instant ice packs and burn dressings.

All products are very competetively priced.

Loading...


If you are interested and would like to contact us please fill in this form
TESTIMONIALS
This is what one of our satisfied customers had to say:
"The course was excellent. I came here with no knowledge of first aid and I am leaving very confident with the fact that I can help save someones life."
Sharon O'Neill attended a Basic First Aid course in October 2011
"I've really enjoyed the day and feel I've gotten a lot out of it. It was very relaxed, which made it easy to listen and take in information. I picked up lots of practical tips and updated info, which will be useful for both home and work. All the topics were relevant and the information was delivered in a really accessible way. Thank you!"
Noeleen Russel attended a Basic First Aid course in September 2011
"Excellent day, very comprehensive course. Good real life examples. Covered all areas and practicals were excellent. I think it was perfect for a basic 1st Aid course"
Sinead McDonald who attended a General First Aid course in May 2010
___________________________________________________________________
CANCELLATION POLICY:
Payment of a € 50 deposit per person is required at the time of booking in order to secure a place on the chosen course.
A full refund is available for cancellations up to 2 weeks before course start.
A 50% refund is given for cancellations up to 1 week before course start. However should we be able to rebook your place we will refund 100%.
Unfortunately no refund will be given for cancellations less than 1 week before the course is due to commence. However we will offer you a place on one of our next classes